Hair Styling Tips – Gone are the days where rocking an afro or braids on the red carpet was considered a bold and risqué move. These days, we are seeing more and more celebrities paying ode to afro-centric looks on the red carpet.
It's refreshing to see cornrows at the Oscar's and box braids at the MTV Movie and TV Awards. It's even more inspiring to see long beautifully accessorized braids at the Kid's Choice Awards. Shifting the perception that straightened hair and high ponytails are what's fit for such events has allowed celebrities and celebrity hairstylists to pay homage to African heritage by exploring different ways of styling African hair. This has brought to the world stage a myriad of hairstyles that have had African and black women beaming with pride.
BRAIDED LOB
Danai Gurira and her hairstylist went above and beyond to show us that all you need is the spirit of creativity and the guts to venture away from the norm and take braids to a whole new level. The Black Panther actress looked chic in her braided lob at the Vanity Fair Oscars Party. We especially loved the unfinished sharply defined ends that added volume and the perfect touch of sass.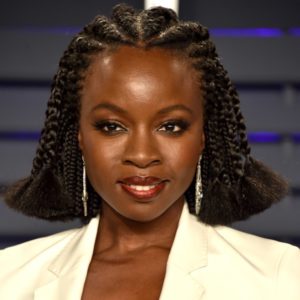 Danai Gurira at the Vanity Fair Oscars Party
This is one style that you can get away with at the office, at a party, weddings or pretty much any occasion you want to stand out at.  If you are the kind of girl who prefers having one look that suits all occasions, then this style was meant for you.
You can achieve it with Abuja Short Braids or Elegant Short Braids by Darling.
FAUX LOCS
From styling it as an everyday look to spotting it in performances, celebrities are now taking it to the red carpet as well.
Ciara left everyone speechless in her faux locs at a show that has been called 'the Oscars of fashion' the CFDA Fashion Awards. The singer looked absolutely breathtaking in faux locs that cascaded past her waist. We particularly liked the ombre look created by the black roots that flowed into a blonde ending with flirty curly ends, and the loose up-do that brought out her striking facial features and complimented her off-shoulder dress.
If you are one for a bold yet authentic look, faux locs were simply made for you. They can effortlessly transition from being a day time look to a dinner look just by styling them as a chic up-do.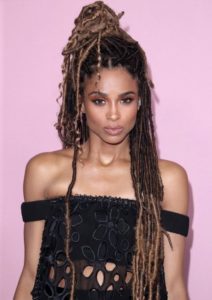 Ciara at the 2019 CFDA Fashion Awards
BOX BRAIDS
If there is one style that will always be a classic, it's box braids. You can style them however you want, have them as long as you want, and the best part is that they will always be stylish.  They are the little black dress in the world of African hair.
The stunning Asia Monet Ray did not only show us that you can comfortably have this style on the Kids Choice Awards red carpet, but she also showed us how to personalize them by accessorizing them in a minimalistic style using golden beads that complemented her mustard yellow outfit.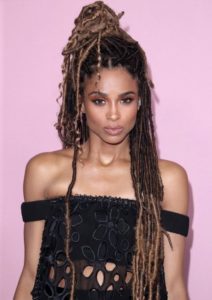 Asia Monet at the Kids Choice Awards
You can experiment with accessories depending on the occasion or season you're in. For instance, one of the prettiest ways you can accessorize your box braids when on a vacation, at a bridal party or beach wedding is by wearing a flower crown. You can also adorn them using shells and for the perfect weekend look, you can use a colorful Ankara scarf to achieve different looks.
You can easily achieve this style Abuja Long Braids or Long Elegant Braids by Darling
AFRO
Just when we thought we had seen all the different ways you could style an afro; Ciara came and blew our minds away. We couldn't get enough of her afro which she styled in two gorgeous larger-than-life puffs. This is a great style when you want to channel most of the attention to your hair while having a simple outfit. To transform it from a red-carpet bold look to a casual albeit eye-catching day look, you can opt for smaller afro puffs. This would make for a great weekend look, especially for a movie date or when out for a laid-back brunch with your friends.
You can achieve this look with Spring Twist Crochet by Darling.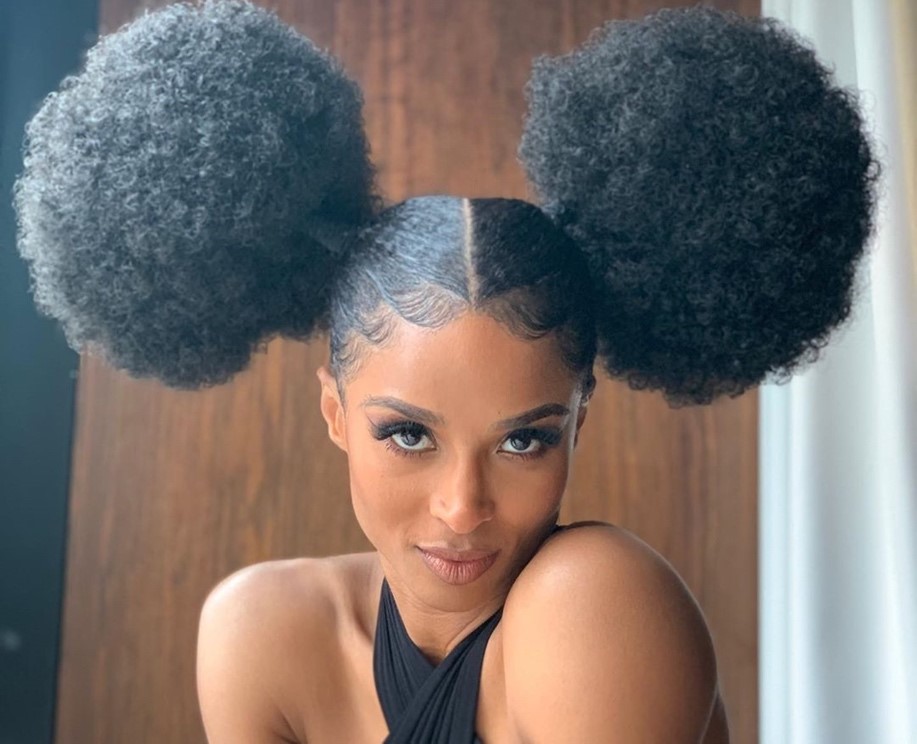 Ciara at the Met Gala
CORNROWS
Cornrows have been considered to be a facet of simple and classic beauty by many women. They are simple, as well as easy to style and manage. Their simple elegance lends them the ability to go well with almost any outfit and accessory.
We've seen a few celebrities looking iconic on the red carpet with cornrows. Amandla Sternberg, for instance, looked dashing in her artistically braided cornrows. She kept it simple with add-on cornrows but added a twist with the braids she swept to one side to achieve a wave that meandered down her scalp to rest neatly behind her ear. This iconic style can be achieved with Abuja Long Braids by Darling.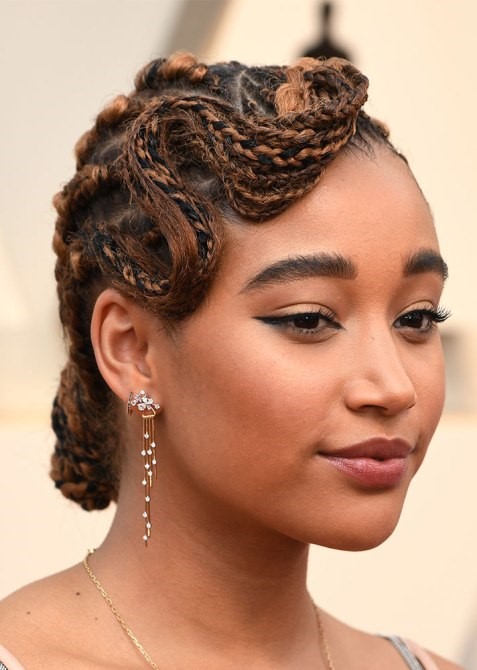 Amandla Sternberg at the 2019 Oscar Red Carpet
Tracee Ellis Ross was a sight to behold at the 2019 Grammy's in her striking black cornrows that stood out against her green pantsuit embellished with a snake belt slacked deliberately across her abdomen. The Black-ish actress took it a notch higher by having them flowing all the way down to her hip. This hairstyle is not only great for the red carpet but can also be a sophisticated everyday look around campus.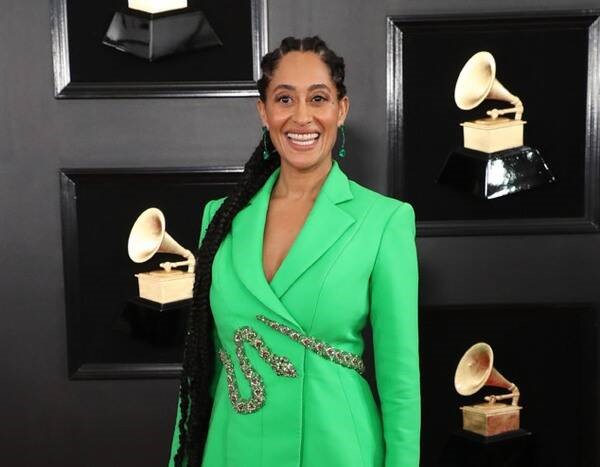 Tracee Ellis Ross at the 2019 Grammy's
No matter what event you might be going to, never hold back from getting creative with your hair. From the red carpet to a wedding or even a classroom, the most important thing is for you to feel beautiful and comfortable in whatever hairstyle you're rocking.