Ladies, we can all agree that the bigger the hair, the better! But if you're still on the fence about going natural and growing out your hair, we've got a collection of afro-textured hairstyles that might just change your mind and inspire your new look. Find the perfect afro style for you and have fun styling it!
Any afro-textured hairstyle is typically renowned for its big, voluminous aesthetic. But, with incredible volume comes the need for an appropriate hairstyle, a look that suits you while also looking seriously stylish.
At Darling, we are all about embracing fun, stunning and simple looks that make you look and feel great effortlessly.
Afro-textured hairstyles are always a beauty to behold. Here are five simple and fun afro-textured styles and styling tips for you to try.
The Fauxhawk Hairstyle
They say fake it till you make it, right?! Well, even if you don't plan on shaving the sides of your hair, you can still get in on the mohawk hairstyle with this fun frohawk and braided style.
You can try our Afro kinky bulk or the Pencil Kinky hair to achieve this look.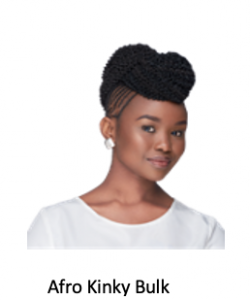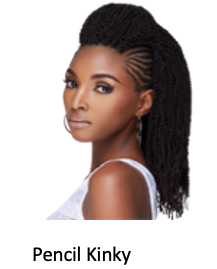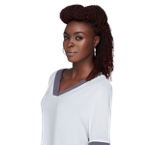 Try this half-updo with Fluffy Kinky Long, for a fun twist on a casual style. To achieve this look, have the hair at the front pulled up into a half bun, and the end left out for a cascading face frame.
The Afro Bun
We are loving this elegant updo style for your afro-textured hair. As you accentuate your afro puff, you're also showcasing a cool style!
You can try our Fluffy kinky or Glory Crochet hair to achieve this look.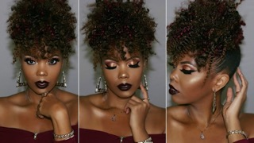 Fluffy Kinky or Glory Crochet hair from Darling
The Deep Side Part Hairstyle
Take your side part deep to create loads of volume and drama. Or better yet, you can try doing a playful middle part! Whichever way you choose to part your hair, ensure to pick one that suits your face and frames it well.
You can try our Obsession weave to achieve this look.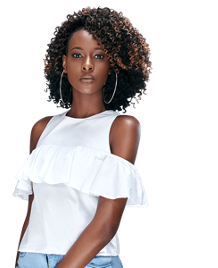 Obsession Weave
The Pinned to the Side Hairstyle
If you want to switch up your afro-textured look and keep your hair out of your face, why not pin back one side? Have fun with any accessory of your choice to change your style.
You can try our spring twist or obsession weave with either a braided side or any choice of hair accessory of your choice to achieve this look.