We know what you are thinking. 100? That many? Yes, ladies, there are more than 100 trendy hairstyles using Abuja Braids that you can try. Think of yourself as a painter and braids as your canvas. Your creativity can only get better.
While braids give you the chance to try all sorts of styles, they also protect your hair and allow it to grow and thrive. As long as you moisturize at least twice a week, your hair will not only get the nutrients it needs, but your braids will last longer.
We have rounded up all the fun African inspired hairstyles you can try with Darling Abuja Braids.
Length, Color and Curls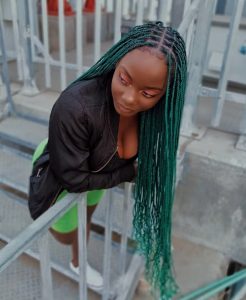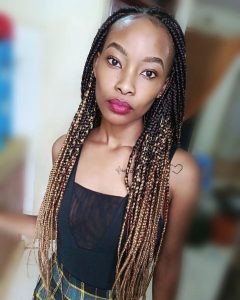 @Nyoero_ In Her Long Enchanting Green Braids             @Wambo_Nganga In Ombre Braids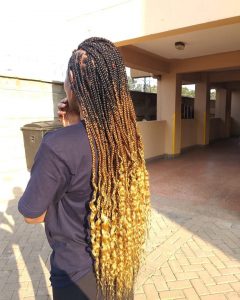 Long Ombre Braids With Curls Done By @hairby.Peris
 Length? Check! Color? Check! You can never go wrong with a pop of color. To make your braided hairstyle even more fun, play around with the finish by either adding some curls or waves. If you only want hints of color, the most fun way to do it is by having your Darling Abuja Color Braids come in towards the end to achieve the perfect ombre look.
Darling Abuja Braids Extension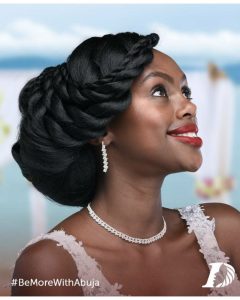 Extension Using Abuja Achieved By Celebrity Hair Stylist @corrinemuthoni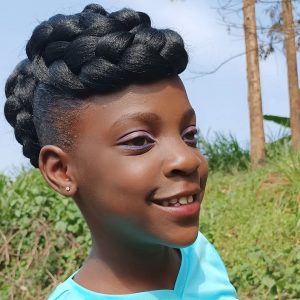 @a.l.y.n.e.a.s.l.y.n.e In Her Braided Extension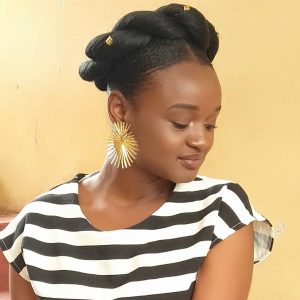 @qoi_njoroge In Her Twisted Halo 
Sometimes all you need is a timelessly elegant look. One that will make you stand out on the red carpet or make you the most beautiful bride. You can achieve this by using Darling Abuja Braids as an extension. You can even spice it up by adding some accessories or playing around with the extension style which can be braided or twisted.
Layered Braids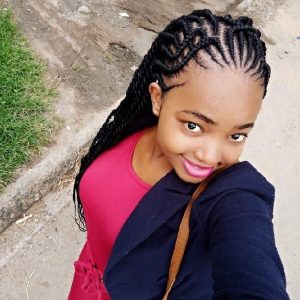 Miriam Miley In Her Layered Cornrows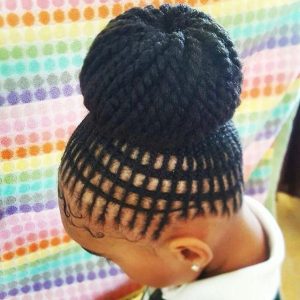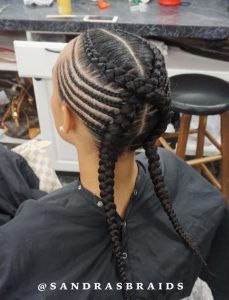 Cornrows are now next level. With the layered patterns, whatever hairstyles you decide to do will always look 100 times better. Layered cornrows can be done in any pattern you like. Whether you would like a simple look are a more complex one, there is a layered braided hairstyle for you.
Braided Bantu Knots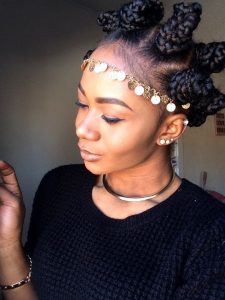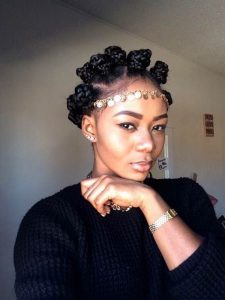 Who said you can only use your hair to achieve bantu knots? Braided bantu knots have the perfect volume and finish and will definitely last you longer. This is the perfect hairstyle for anyone who likes styles that stay put and away from the face.
Braided Bob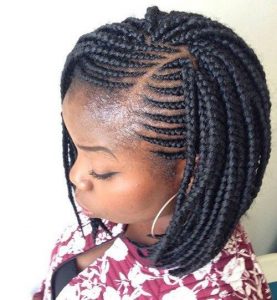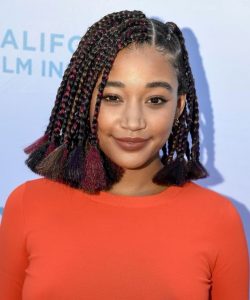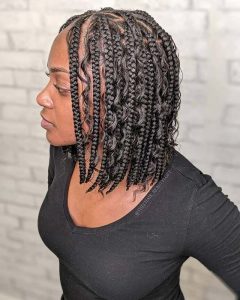 The braided bob can be made into different styles that take it to the next level. If you love your cornrows, you can have them at the front. You can also leave the ends undone to achieve a more casual look. If you love a touch of elegance, you can add some curls to your braided bob.
Ponytail Extensions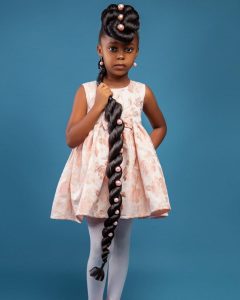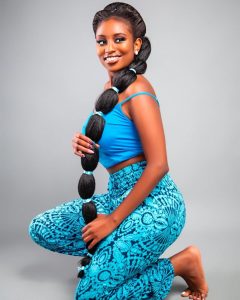 Beautifully Done Ponytails By Hairstylist Melissa Lesilale @Pambo_mel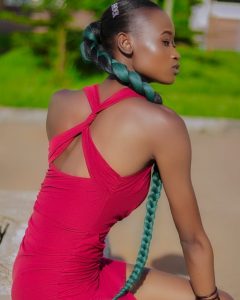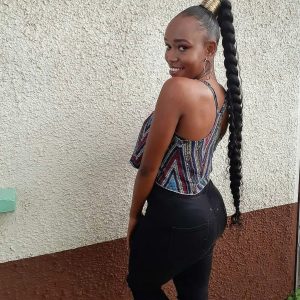 @Bor_gia_54 in Her Green Braided Ponytail                             Christine In Her Bohemian Style Braided Ponytail
Rapunzel! Rapunzel! Let down your hair. If you want to achieve an effortless look in a short time, then look no further this is the hairstyle for you. Use Darling Abuja Braids to make a long braided or twisted ponytail. This look is playful yet elegant and easily achievable in the comfort of your home.
French Braid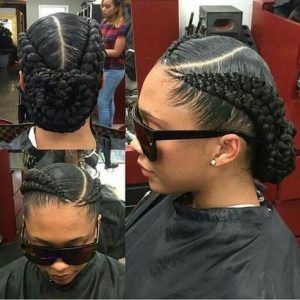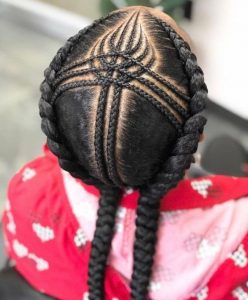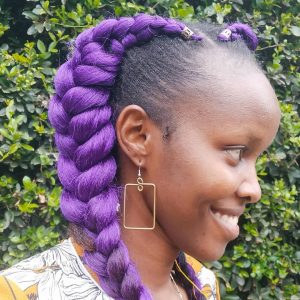 @njeriegitau  In Her Purple French Braids
French braid is the perfect hairstyle for any occasion, whether for work, school or when out on a date, French braids will always look good with any outfit. You can achieve different styles as well. From the classic two French braids to four braids or even two big braids spiced up with smaller cornrows in the middle. If you want to make it pop, you can use Darling Abuja Color Braids.
Darling Abuja Braids Fringe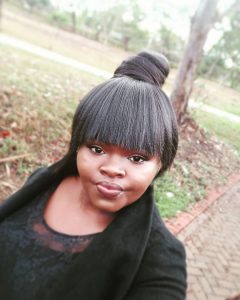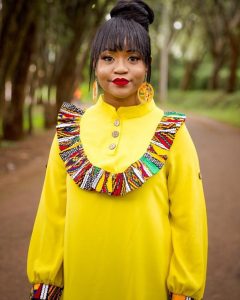 Kelsy Nyaga And Juliana Kituma In Their Fringes Achieved Using Darling Abuja Braids
Nothing like a good fringe and bun creatively done with Darling Abuja Braids. Learn how to do it yourself here.
Braided Updos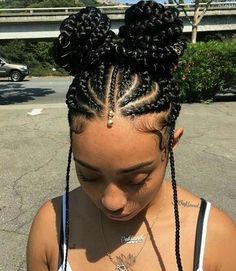 A good updo is both elegant and fun. You can choose to do pigtails or brighten it up with some color and one big bun.
Passion Twists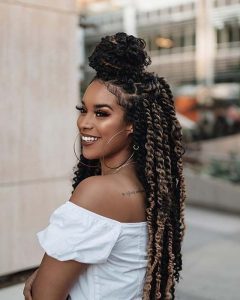 We bet you never saw this one coming. Yes ladies! Darling Abuja Braids can create the best passion twists. Ones that will last even longer that the usual ones. You learn how to do it yourself here.
Braided and Twisted Cornrows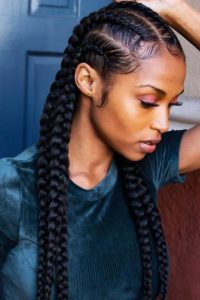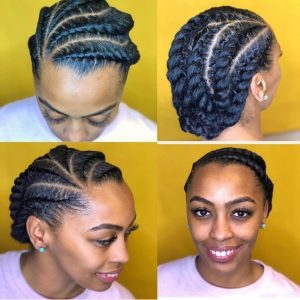 Simple yet so timeless. If you are going for a classic look, you choose to go with the braided cornrows or the twisted version. This style is perfect no matter how old you are. Even your little princess would look perfect in this. Better yet, you can both go for this hairstyle and twinJ
Micro Braids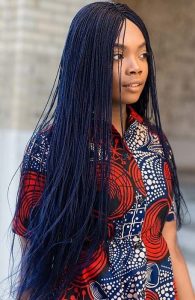 Have you ever wanted that hair feeling but with braids? Now you can have your cake and eat it. The hours you will spend getting braided will all be worth it because once you are done, trust us! Micro braids will be your new favorite hairstyle. Not only will they last long, you will also get that long hair feeling. Use Darling Abuja Xtra Long for the perfect results.
Cornrows and Box Braids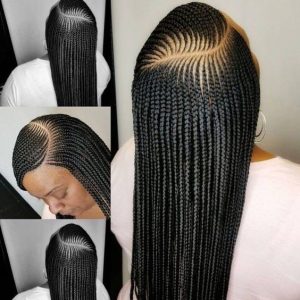 If you are thinking of going for the usual box braids, you can change it up a bit by adding some cornrows around the first layer. This gives the perfect flow.
Side Swept Cornrows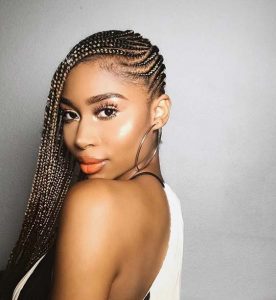 The side sweep is one of the most flattering hairstyles you can go for. It is perfect for the red carpet as well as a date night. It gives you an effortlessly charming and mysterious look.
Dynamic Cornrows and Twists
This is for the girls who want it all. The cornrows and twist are the perfect look especially for school or a weekend out.
Fulani Braids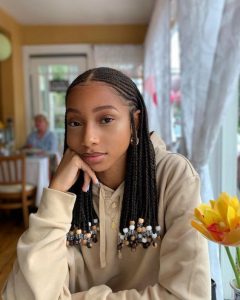 The more beads the merrier. Fulani braids are a classic style that even your kids can do. All you need to do is make their beads a little more colorful.
Triangle Box Braids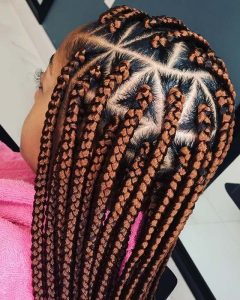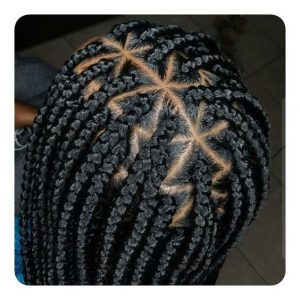 Next level box braids. With creative partition designs, you will love holding up your hair.
Bohemian Braids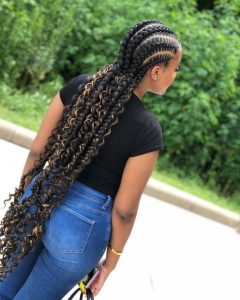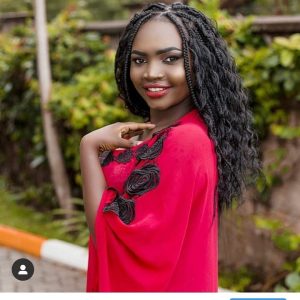 @Shirley_Chelluget_ In Her Bohemian Braids
For the sophisticated and elegant woman, the bohemian hairstyle was made for you. You can either choose to do it with braids or cornrows.
Mohawk Hairstyles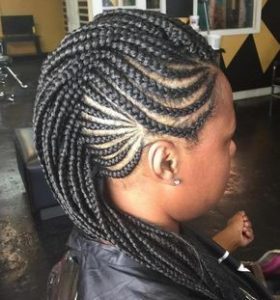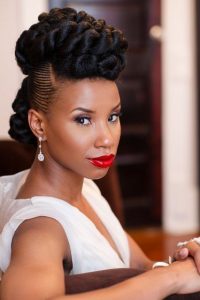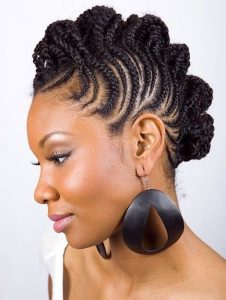 There is always something daring about the mohawk hairstyle. It is a bold look and when styled with Darling Abuja Braids as an extension, it transforms into an elegant look worthy to be styled by a bride. You can also leave it open as well to add some flare to the look.
Braided Low Ponytail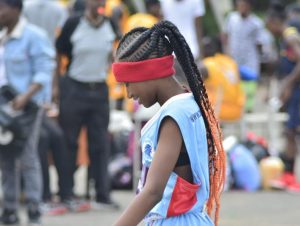 For all the active sisters out there, try the lower bun or ponytail hairstyle and spice it up with some color and extra-long braids.
Bandika Lines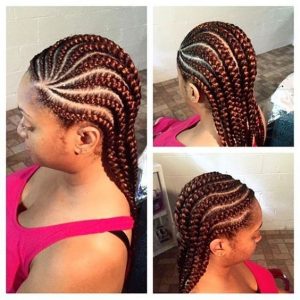 Do you find classic cornrows getting undone after a short while? Try bandika lines, they are a great protective styling as your hair is away from the sun and dust and they last longer than the usual cornrows.
Flat Twist Updo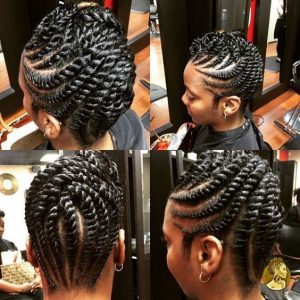 For the boss lady, this style is for you. The flat twist updo. Its stays neat for long and does not get in the way. Perfect for busy days even while working from home.
Jumbo Cornrows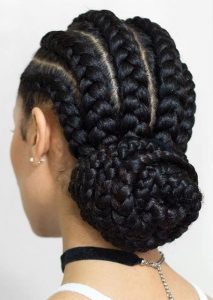 With the pandemic, it is safer to go for hairstyles that will take a shorter time at the salon. Jumbo cornrows are perfect for this and even on a normal day when your time is limited. You can either hold the back in a bun or even let the braids out.
All Round Braids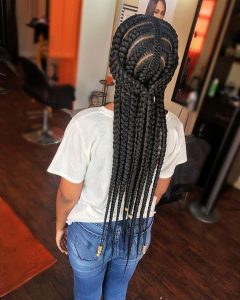 This is another simple style that won't have you stay in the salon for long. The simple lines all around that flow down into elegant braids are simple to manage and give room to styles as desired.
Xtra Long Medium Box Braids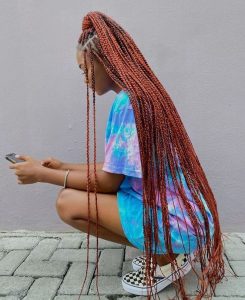 The longer the braids the more fun you have. This is the perfect hairstyle for casual settings or semi-official looks.
Braided Triangle Box Braids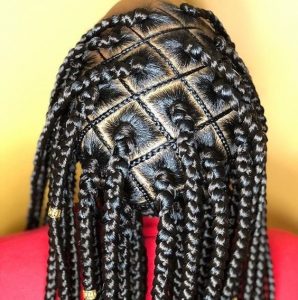 While creative partitions are the bomb dot com, having micro cornrows adds more character flair to your look.
Lower Pigtails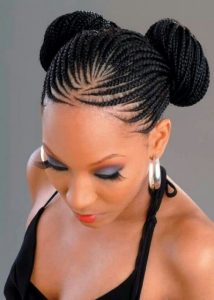 If you fancy pigtails but aren't sure how to make them a little more sophisticated, the trick is to take them lower. Lower pigtails are very dressy and can pass for any occasion.
Two Colored Box Braids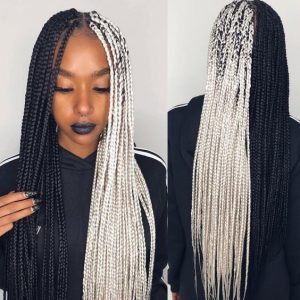 When you love two colors, do not hold back. You can have it all ladies. This is a fun style that is perfect for a weekend with the girls or even just shopping.
Braided Pigtails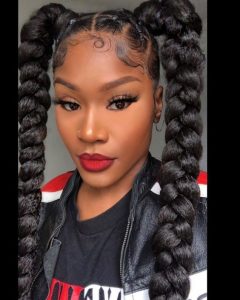 Inspired by the 90's, the braided pigtails will never run out of style. They are also very fast to achieve, which will only have you spend just a few minutes in the salon.
Braided Halo with Side Swept Cornrows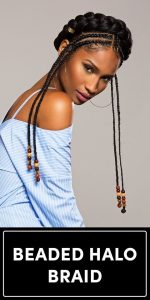 This angelic hairstyle is one you will love. The braided halo with a few side braids is the perfect hairstyle for work and school. It is fun with a touch of elegance that easily pass for the red carpet. Add a few accessories and your look will be complete.
Zig Zag Braids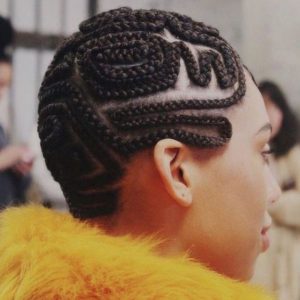 It is all about creativity. Zig zag braids were such a hit in the 90's and now they are back. Bigger and better. This hairstyle oozes tribal vibes and is the perfect look if you want to add some character to your style.
Classic Da Brat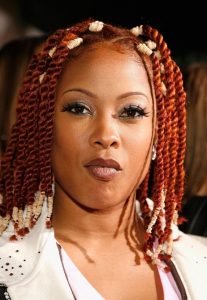 If ever there was an iconic hairstyle, it would have to be da brat. It still is the perfect fun hairstyle. If you want to style it with a little more 'adult' look, you can use all black rubber bands.
Creative Beaded Braids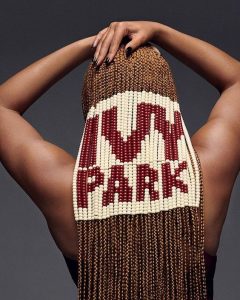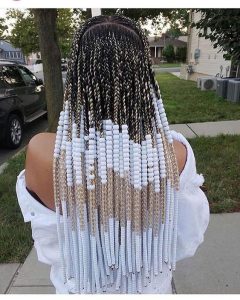 Just like queen Bey, character is key. There is so many ways in which you can use beads on your braids and this is one way you have to try. Style medium braids and play around with your beads to make a pattern or name. This is the perfect baby shower look, especially if you have already picked out a name for your little one.
Twisted Bob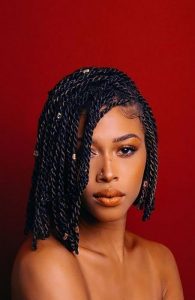 While most of us are used to the braided bob, the twisted bob is one hairstyle to try. Make one side longer and add some accessories and voila! Twists give a straight finish and is faster to achieve.
Banana Ghana Braids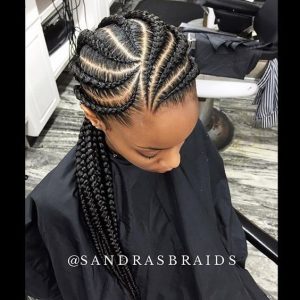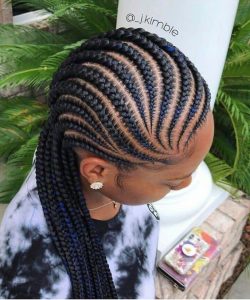 Banana Ghana braids will always have a place in any hairstyle collection. While they are easy to achieve, you can still get creative with how you style the cornrows and the size of them as well.
Braided Bangs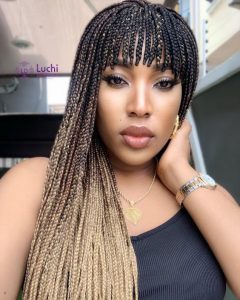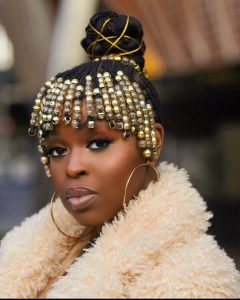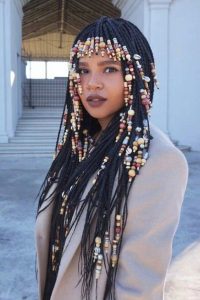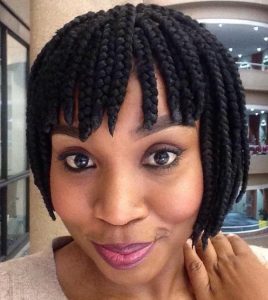 Let us talk bangs. They are so many ways to achieve bangs even when styling different hairstyles. The first has to be with the famous braided bob. You can also style bangs with your normal box braids and to spice things up, you can accessorize as much as you like. If you love high buns, you can also style bangs as well.
Trimmed Sides Hairstyles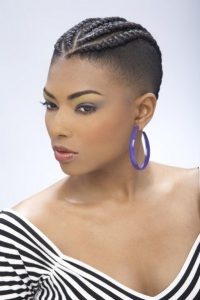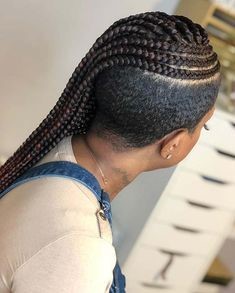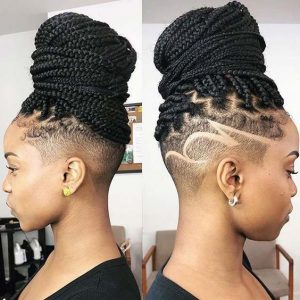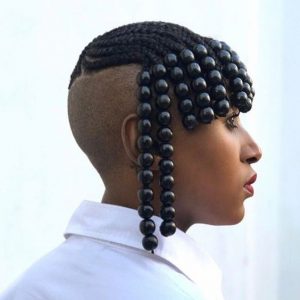 For our sisters with the trim sides, we have your back. From doing cornrows, side sweeps, box braids and even beaded bangs, you have so many hairstyles to try.
Braided High Bun
High buns and long lustrous strands. This hairstyle was made for all you goddesses.
Braided Side Bun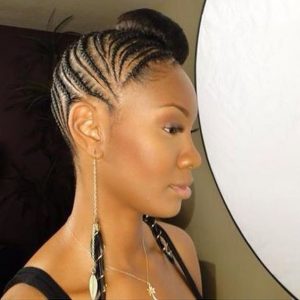 If you love your bun hairstyles, this one is for you. The side bun. This is the perfect hairstyle if you love to dress up and stand out.
Albaso Hairstyle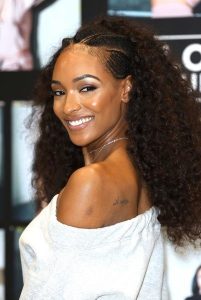 Inspired by our beautiful Ethiopian sisters, the albaso hairstyle is a mix of braids and a weave. This hairstyle works for any occasion. Whether official or laid back. You will sure turn heads.
Braided Extension Strand
Somewhere between your hair and a bun extension is the perfect braided strands that elevate your look and keep your bun in place. Feel free to accessorize for that extra va! Va! Voom!
Jumbo Box Braids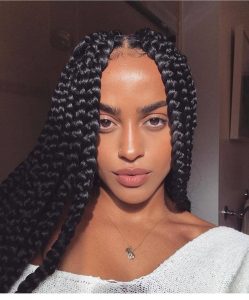 You can never go wrong with jumbo braids. They are the perfect laid-back braids that take such a short time to achieve.
Jumbo Side Braid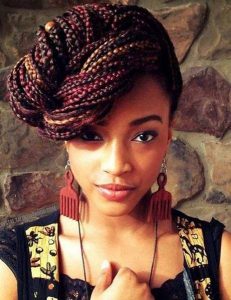 There so many hairstyles that you can achieve with your braids. The side braid is one of the easiest and most elegant. Not only does it take a short time to achieve, it also holds for a long time and can be the perfect hairstyle for weddings, graduations and birthday parties.
Fishbone Hairstyle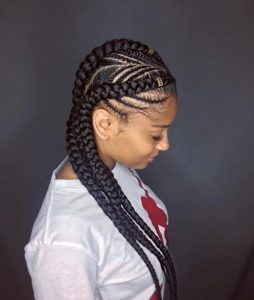 Fishbone hairstyle is one that we love. The creativity in the cornrows makes it stand out and last longer.
Polished Pompadour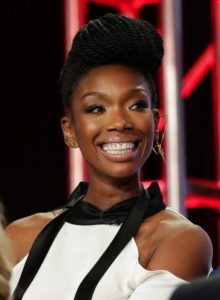 The polished pompadour will give you the royal feels. It is the perfect hairstyle for when you feel dressy or want to add some extra to your official look.
Butterfly Braid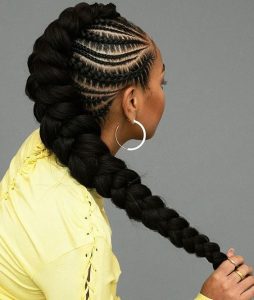 There is something so charming about this butterfly braid hairstyle. It feels luxurious with a laid-back feel. Definitely a hairstyle to try.
Senegalese Twists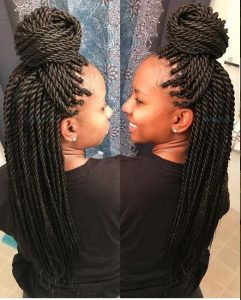 Just like the classic front to back cornrows, the iconic Senegalese twists will never go out of style. They are an easy to-go-to style especially when you are not necessarily going for any specific style.
Iconic Snake Hairstyle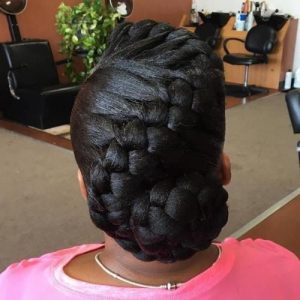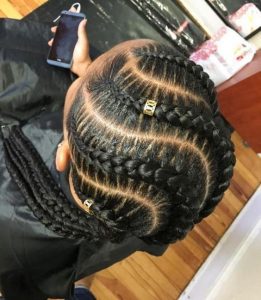 The snake hairstyle is one that we cannot get enough of. Whether you prefer just one single cornrow for an occasion or a couple for your everyday look, this braided hairstyle will not disappoint.
Accessorized Xtra Long Braided Ponytail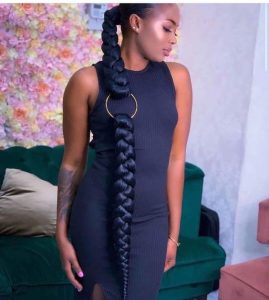 Accessories have a way of taking any hairstyle to the next level. If you love a long regal ponytail, spice it up with a large ring and you will be ready for any occasion. Pro tip: you can use a loop earring to accessorize.
Tribal All Round High Bun Braids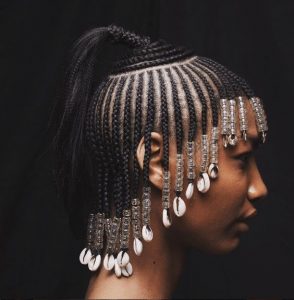 Tribal hairstyles are always the bomb. This all-round cornrows and spiral ponytail makes for the perfect festival look. The best way to rock it is with some beads and shells. You can choose clear beads or colorful ones depending on your chosen outfit.
Pigtails with French Braids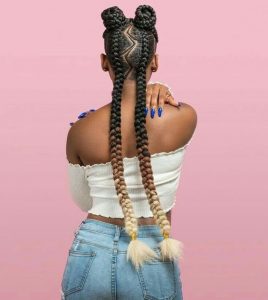 Who said pigtails and French braids can't go together? This is most fun hairstyle especially when a little color is involved.
Side Twists With Braids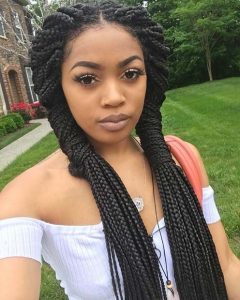 A little side twists to change up your braids. You can achieve this using your already installed Darling Abuja Braids.
Jumbo Braided Bun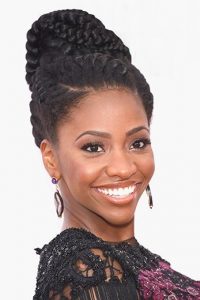 On some days, you just have to bring out your inner creative goddess. Darling Abuja Braids are perfect for jumbo braids and bun.
Braided Halo With Flower Braids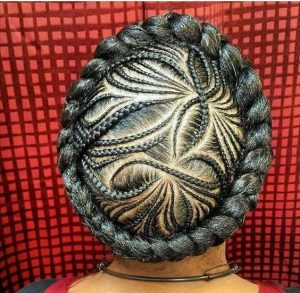 Braiding is like art. For those who love a good put together hairstyle that stays away from the face, this one is for you. The perfect halo with flower pattern braids.
Back To Front Mohawk Extension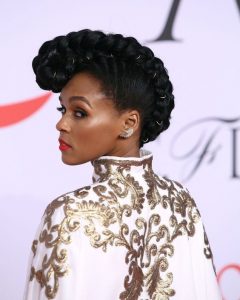 Chanel your inner Janelle with this back to front braid that makes the perfect red carpet worthy mohawk. Remember to have hints of metallic accessories to elevate the look.
Knotless Braids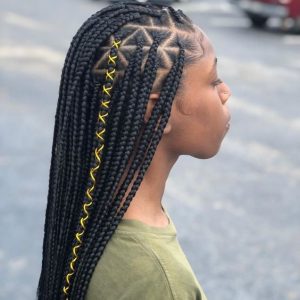 This is one braided hairstyle that we sure cannot get enough of. Knotless braids. They give the illusion that you braided using your own hair. Knotless braids also last longer as they have a better hold and are less painful.
Up and Down Braids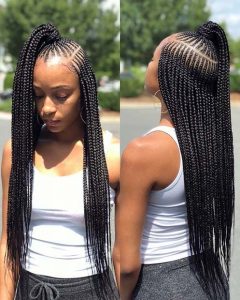 Braid up and braids down hairstyle not only gives the illusion that you are taller, but they also give you the liberty to style as you like. Whether you would like to leave the ponytail out or hold it as a bun, you will always have hair freely flowing and moving as you move.
Pyramid Braids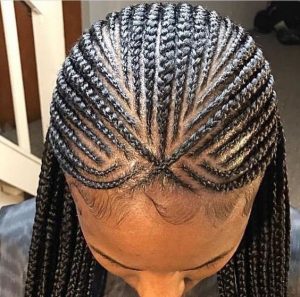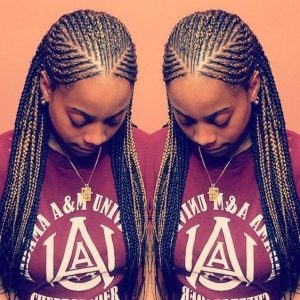 Inspired by the beautiful pyramids in Egypt, Pyramid braids are such a head turner.
Micro Braided Cornrows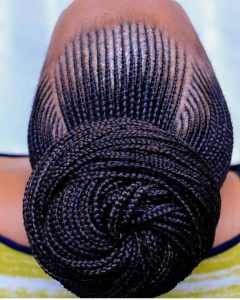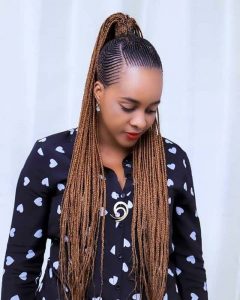 If you are looking for a hairstyle that will last you long, go for the micro braids. This however will be better to achieve after the pandemic so you avoid spending a lot of time at the salon.
Lower Box Braids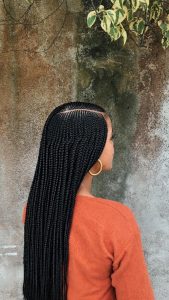 If you want box braids but do not want them all over the place, go for the lower box braids hairstyle. The cornrows also that your braids flow perfectly.
Pamoja Braids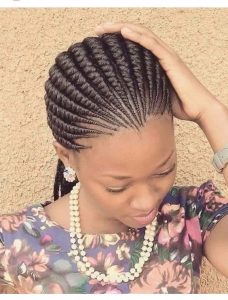 Pamoja braids have always been a classic. Whether braided directly or added to your cornrows, they are the perfect style for any look.
Mohawk Bantu Knots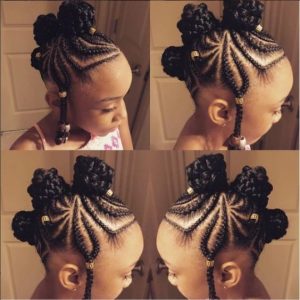 While braided bantu knots are superb, braided bantu knots turned into a mohawk are next level. Add some cornrows and you have a whole look perfect for you and your little one too.
French Braids With Cornrows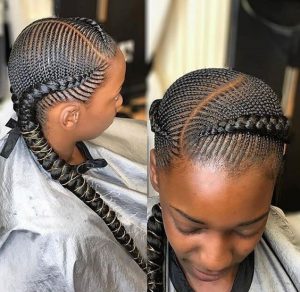 If you are going for the French braid hairstyle, add some cornrows around them for the perfect look. You can also choose to accessorize with a fancy string.
Lemonade Braids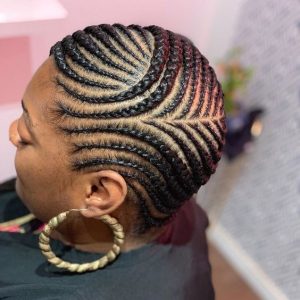 Another Queen Bey inspired look. Lemonade Braids are a classic look.
Tribal Braids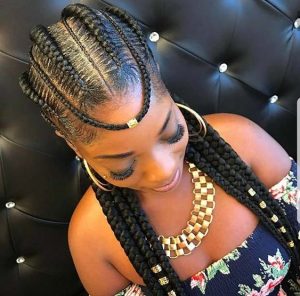 A tribal hairstyle to add some character to your look. You can accessorize as much as you want and have more than one front braid if you like.
Havana Twists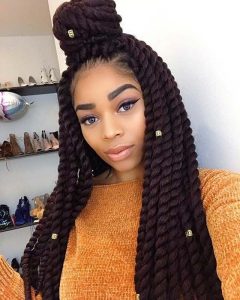 We love a good Havana hairstyle. If you are travelling soon, this is the perfect twisted hairstyle.
Braided Wig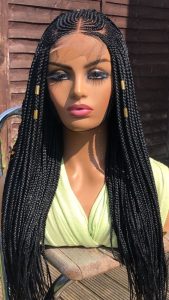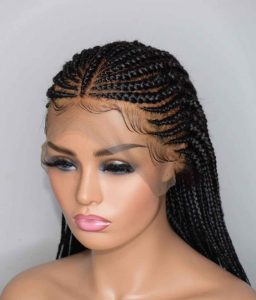 Every girl needs at least one wig. You can get creative with your Darling Abuja Braids to make yourself a wig. There are so many tutorials online as well as creative hairstylists who can help you create the best wig from your braids.
Stitch Braids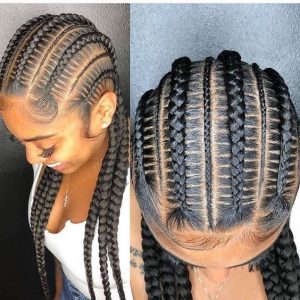 Say goodbye to normal braids because stitch braids are so in and stylish.
KIDS BRAIDS
Side Swept Braids
The side-swept braided hairstyle is one of the most adorable hairstyles for your little princess. Let them pick their own accessories to make it even more fun for them.
Braided Bun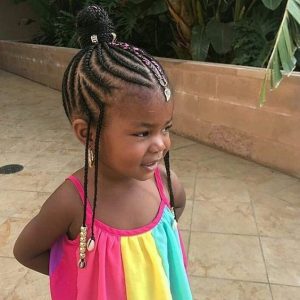 If you are looking for the perfect braided hairstyle for your little one, this top bun is perfect. It allows your little one to enjoy playtime without any hair getting in the way. To spice it up a little, you can add some accessories to it or have a few backs to front cornrows.
Fulani Braids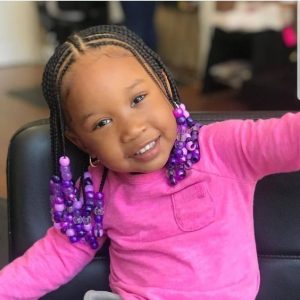 Fulani braids are not only an adult style. Kids can rock it too. All you will need to do is swap the clear beads for some colorful ones.
Braided Halo with Cornrows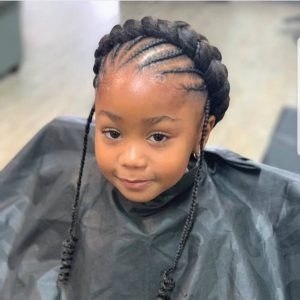 Like the little princess that she is, every little girl deserves this adorable hairstyle. Cornrows with a braided halo. It keeps hair away from the face while looking super cute all at the same time.
There is so much for you to choose from. Darling Abuja Braids is the gift that keeps on giving. With so many hairstyles to choose from, we bet you will always be looking amazing. Try one any of these hairstyles and tag us on our social media channels using the hashtag #BeMoreWithAbuja and you will get a chance to be featured.