Kids Crochet hairstyles are the best for tender tresses of young kids. Not only do these hairstyles take a short time to achieve, but they ensure that their hair is not pulled hence applying too much tension on their scalps which tend to be very sensitive. Crocheting is a great way to ensure that their hair does not lose moisture as well.
Seeing as most kids love long hairstyles, crocheting is a great way to achieve a bit of length and even volume. Be it for weddings, playdates or family photoshoots, crocheting is a perfect choice.
We have a few ideas that we bet your children will love for the holidays.
Braided Updo
From a single bun to the pussycat style, this hairstyle never disappoints. The beauty of crochet is that your child will have their own hair plaited, as opposed to braiding with an extension, which is faster and probably less painful. The crochet will then be added at the end as an extension, so your baby can flip and twirl her hair to her heart's desire. This style is perfect for the younger kids who have a hard time sitting still at the salon and for kids who love some extra length. Feel free to make it a little colorful with some beads or colored rubber bands. This style can be achieved using Darling Bebe Short Crochet.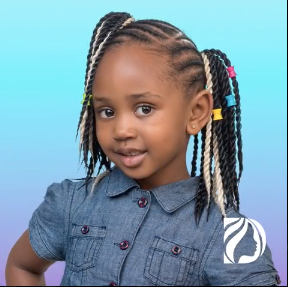 Darling Bebe Short Crochet
Curly Mane
Curls. The one thing all kids adore. They are bouncy in nature, making them super playful and fun. For the little divas who love picking out their own outfits and creating their own little modeling shows, this is definitely the style for them. It is also the perfect style for flower girls. This style can be achieved using Darling Kimi Bounce Crochet.
Curly Crochet
Braids and Curls
So, your daughter can't decide. She wants all hairstyles plus a bit of accessory. We've all been there. What to do? Let her have it. Besides, that is what makes the holidays something to look forward to. The chance to experiment. Having both braids and curls is like having two toppings on your ice-cream. It gives a chance for different braiding styles and different lengths when it comes to the curls. This style can be achieved using Darling Baju or Mimi Curl.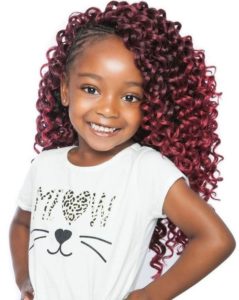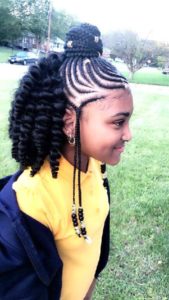 Braids and Curls
Classic Twists
You can never go wrong with the all-time favorite classic twists. If you love styling your child's hair, then this is your go-to style. The most amazing thing is that your child can now achieve this look without the long salon hours, thanks to the glorious Darling Bebe Short Crochet. This style is great for up-dos and other styles, as well as for accessorizing.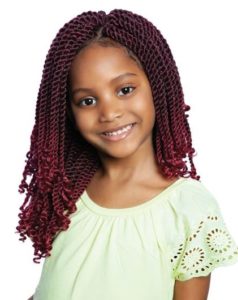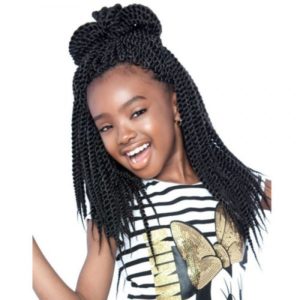 Classic Twists
Curly Mohawk
Sometimes the older kids may want to break away from the usual hairstyles to try something that will make them look a little more seasoned, a little more daring, a little more out-of-the-box. A curly mohawk could be the solution for them. It is also a really cute hairstyle for the younger ones as well. It also is not hard to maintain as you do not need to keep styling it. This can be achieved using Darling Kimi Bounce Crochet.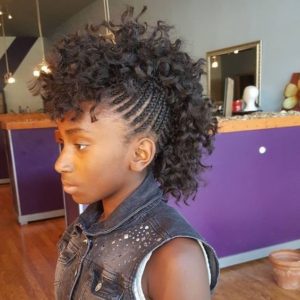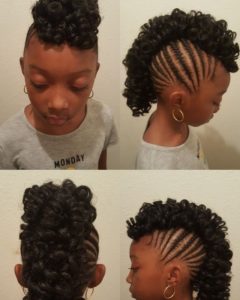 Curly Mohawk
Buns and Braids
Buns are simply the cutest little things for kids; whether with their hair or braided. Seeing as they are children, you have to be careful to ensure that they only style buns that are not heavy for them. Buns are easy to accessorize, especially with flowers and pins. They just could be the most elegant style for flower girls and birthday girls. It could also be a great style even when they are going back to school. A pretty bun can be achieved using Darling Kimi Bounce Crochet. The beauty of this crochet is that you can also play around with little side curls just to spice up the look.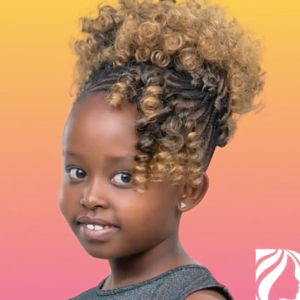 Curly Bun with Darling Kimi Bounce Crochet
Crocheting is a great way to keep your kids' hair protected while giving them an easy time at the salon. Did you know that crochet also lasts longer than the usual braiding? Crochet will have your hair underneath, hence protecting your tresses from factors like the sun which can bleach your hair and the cold weather which can get your hair dry. When having your child crocheting, ensure that the stylist only puts the right amount of tension so at to have enough room to install the crochet. Ensure that they also just put the right number of strands as putting too many may end up thinning the hair. Follow this through and your child will be having the time of their lives with their crochet hairstyle.