Like most, this quarantine life has probably gotten to the point of the lazy turban. However, we are here to help you spruce things up! While you may not be able to go for your usual hair appointments, that does not mean that you cannot look cute in your hair. There are so many simple ways to create fun hairstyles that you can enjoy even while you stay home. We have rounded up some of the easiest and simple hairstyles you can achieve while at home.
Restyling
You have had the same hair extensions for a while? Not to worry, there is so much you can do. For those with long braids, you could actually change up your style almost every day. From styling a top bun to braiding or twisting the strands, you can restyle it in so many ways. If you happen to have some hair accessories lying around, this is your chance to get creative with them.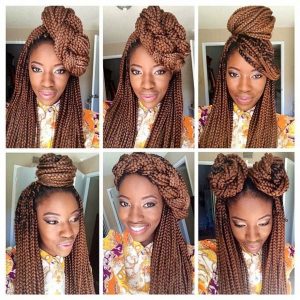 Same Braids Different Styles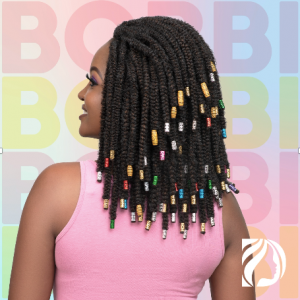 Accessorized Braids
Another way to restyle your hair can be by trimming it. You might however need to ask someone close to you to help you out, so you can have an even trim, especially at the back. Use a candle to scorch the tips so as to avoid running of braids after trimming, or you could simply tie a small knot at the end.
Extensions
Extensions always come in handy especially when you want to look great without spending hours on your hair. This is also a simple way to uplift your look while at home. You can use extensions to achieve a cute ponytail or even a mohawk. You can use Darling Afro Diva Weave as an extension to achieve both these looks.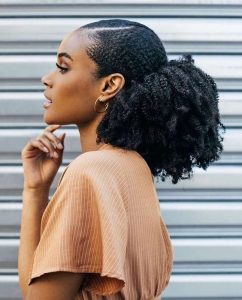 Model In A Curly Extension
Crochet
This is one way to completely transform your look without having to do much as crochet hairstyles also tend to last you a while, and take a short application time, meaning you always have the freedom to restyle however you want. There are also many crochet styles you can try depending on what you may want to achieve. From curly to kinky looks, you have so much to choose from. For those going for a curly look, we have a video that can help you achieve the curls and install the crochet. You can use Darling Kinky Long to achieve the look.
Au Naturel
Has the time come to undo your current hairstyle? Do not worry! You can still have some fun with your natural hair without having to add anything to it. Some of the simple styles you can achieve are bantu knots, which can actually last you a while and look pretty darn cool. You can also do some twists that you can restyle or even simple braids with your own hair.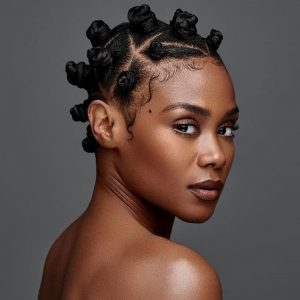 Model In Bantu Knots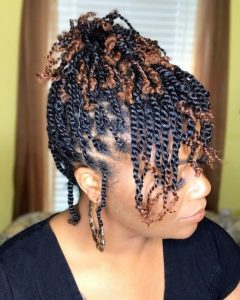 Twist Out On Natural Hair
Even as you try out these simple styles at home, remember to always wash your hair at least once every two weeks and moisturize your scalp. You can use TCB Hairfood to moisturize and TCB Deep Penetrating Treatment to wash your hair. Who says you can't keep in style and still #StayAtHomeDarling? Not us!