Keeping your hair healthy and strong is a tasking but rewarding endeavor and find the best cold weather hairstyles might be a bit hard sometimes. From finding the right products to keeping it well moisturized, you have to be extremely intentional so as to keep your tresses happy and thriving. However, with the onset of any cold season brings brittleness, shrinkage, breakage and drying out of hair. Everything our manes definitely need to avoid.
The situation, however, is highly salvageable and even avoidable. You can take advantage of the cold weather to take on some really beautiful hairstyles that double up as protection from the elements. From weaves to crochets and even braids, there is so much you can do to keep your hair healthy and protected and still look good.
Here are a few styles that the cold weather has nothing against.
FAUX LOCS
When in doubt, loc it down. Faux Locs hairstyle is undoubtedly the best protective style for the cold weather. Not only would you look incredibly chic, but this is the one style that you are pretty much allowed to keep on for a longer time compared to any other style because like fine wine, they get better and better with age. In fact, most people prefer how they look after a month compared to how they look when freshly done because the older they get the more they end up looking more authentic. And this a win-win situation because your hair stays popping and protected at the same time.
You can achieve this look with Rasta Sista by Darling, or Rasta Trend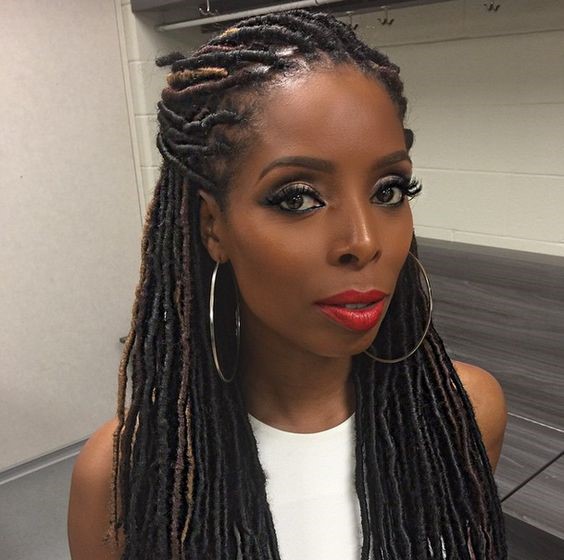 Actor Tasha Smith with Faux Locs
CROCHETED CURLY MANES
You can always, and we mean always, rely on curls to spice up any look. Installing a curly weave or crochet on your hair in the cold weather is a sure way to heat up an otherwise cold affair. The best thing is that whether you style them for work, for school or you probably want to rock them at a wedding or red carpet, curls are an attention grabber for any occasion. There is truly no better way to liven up the cold days than with a good curly look.
Crocheting your hair gives you a little more freedom with the final outcome of the hairstyle than a weave would. For instance, you can decide on the volume you would want or even what side you would prefer to have the hair fall on most. You can even play around with side cornrows by leaving them un-crocheted.
You can achieve a curly crochet look with Elite Curls Crochet by Darling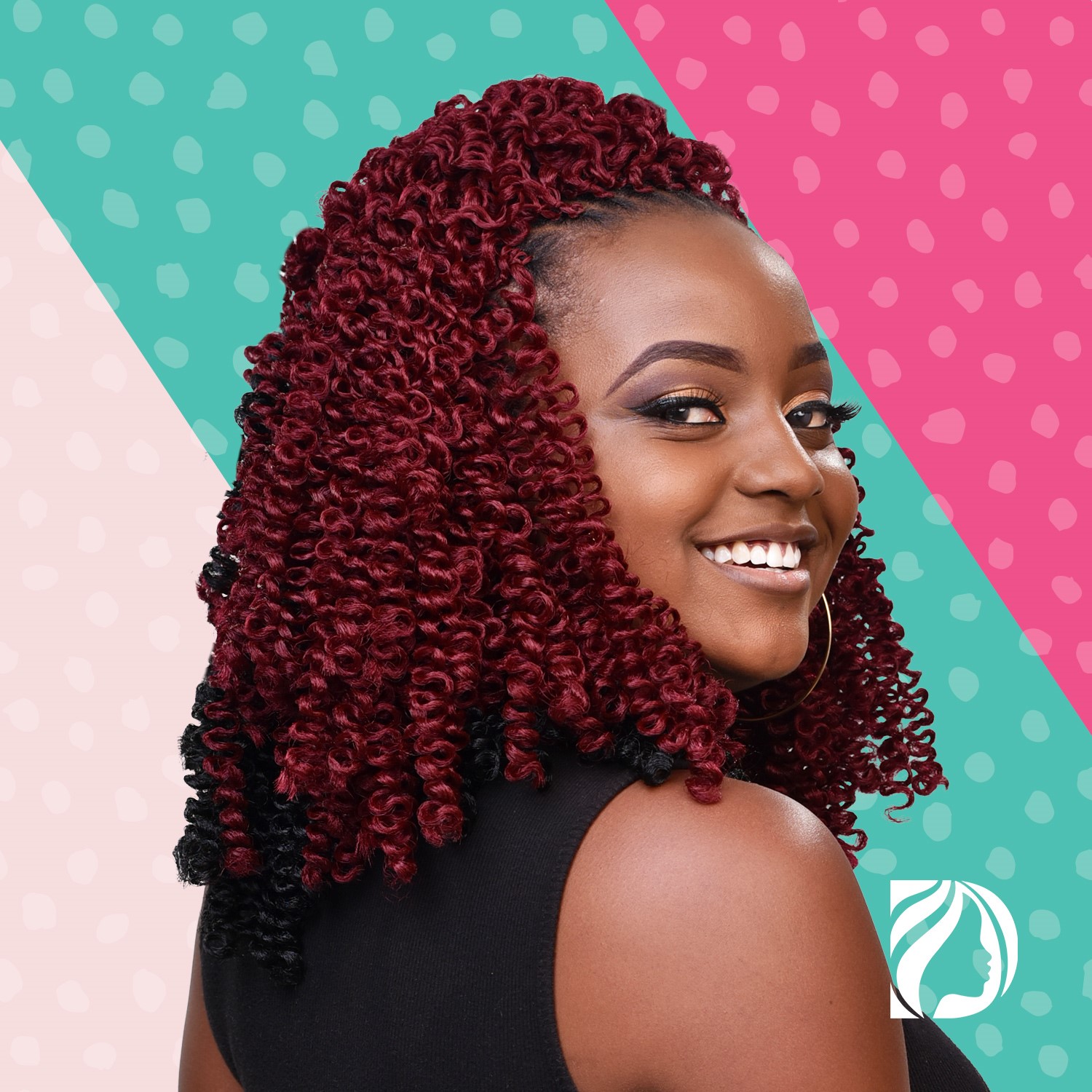 Elite Curls Crochet by Darling
If you do not fancy crocheting, you can still achieve a beautiful curly look using a weave, like Serena Weave by Darling.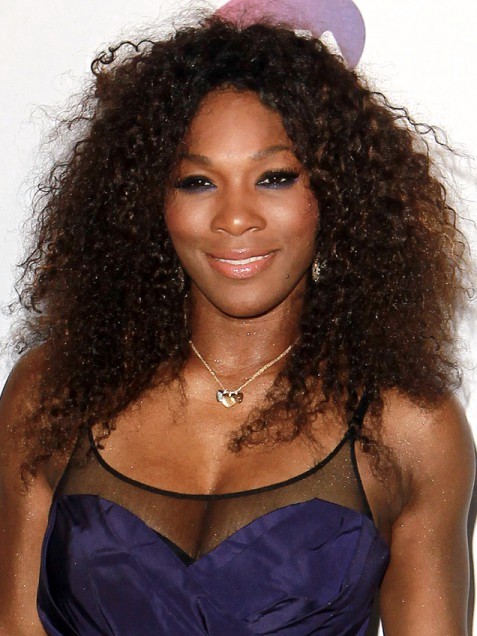 Serena Williams in Curls
Williams in Curls
Both crocheting and weaving are great ways in which you can protect your hair since they both require you to do cornrows before installing. Both styles also ensure that your hair and scalp are protected from direct exposure to wind that tends to rob your hair of moisture.
COLORED BRAIDS
The cold weather might be gloomy, but your hair does not have to be. You know what they say, ladies! Wherever you go, no matter what the weather may be, always bring your sunshine. In this case, bring your colored braids, one of the best cold weather hairstyles of all time.
A pop of color to your braids adds a little bit of character to your everyday look and makes you stand out. It is also a great way to bring out your personality in a playful way while still keeping your hair protected from the damage the cold season can cause.
When it comes to playing with color, there are a few ways you can go about it. For instance, you can have one main color like black, and have a few braids of different hues according to your preference, or you can choose to mix colors of all your braid strands and bless the world with a splash of colours or you can even go with a monochromatic look with a bold colour if you are feeling that fearless.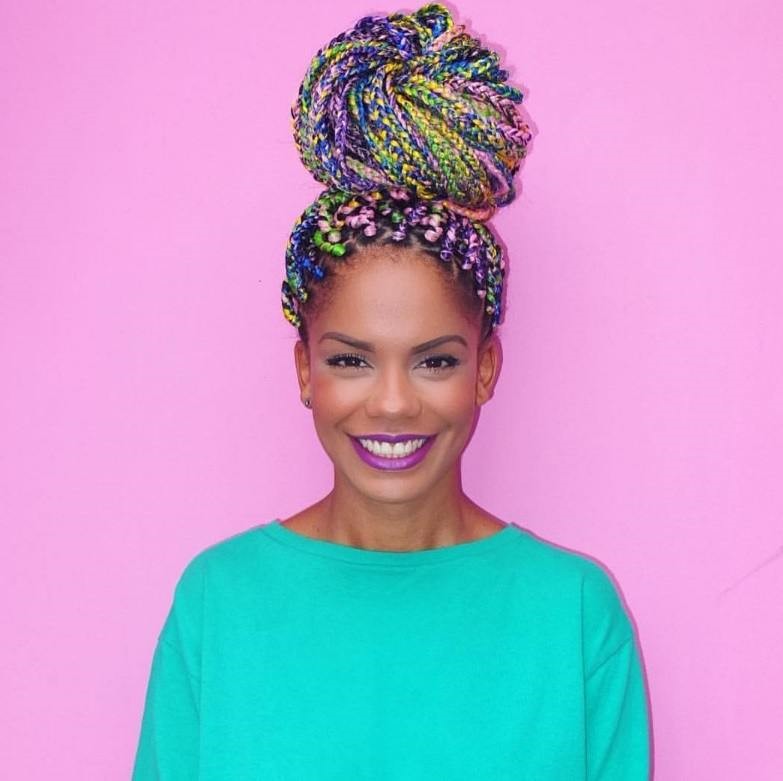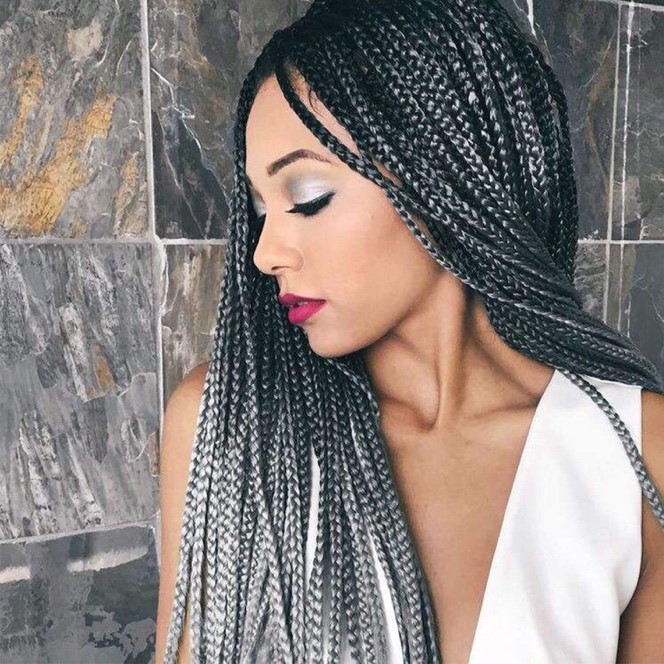 Colored Braids
EXTRA LONG BOX BRAIDS
You can never go wrong with the all-time classic box braids during the cold weather. Make them longer than usual and voila! The perfect African cold weather hairstyles. Box braids are low maintenance and allow you to style and accessorize in so many different ways. Whether you are dressing down with your beanie hat on or whether you are into brass hair rings and spirals, box braids are the canvas and you are the artist.
You can achieve this style with Long Abuja Braids by Darling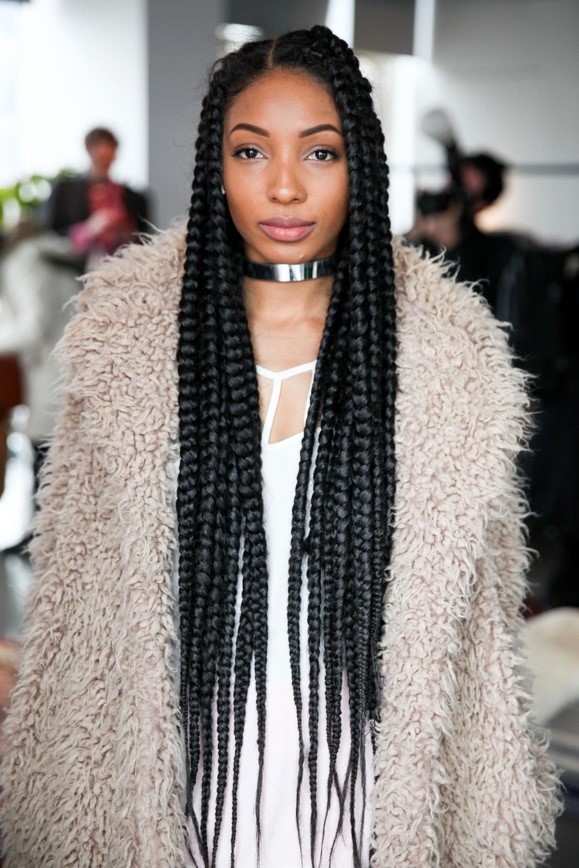 Model Wynter Golden in Box Braids
BRAIDED BUN
They say simple is sophisticated and the braided bun is proof of this. This style is perfect for anyone with a hectic schedule or anyone who wants a break away from the day to day styling which can honestly get a bit tiresome. The best features of this style is the fact that it really brings out your facial features, shines a spotlight on any accessories you may have adorned your face and neck with, and allows you to experiment with the cornrow style in any way that you may desire. All this while still protecting your hair.
You can achieve this style with Long Elegant Braids by Darling.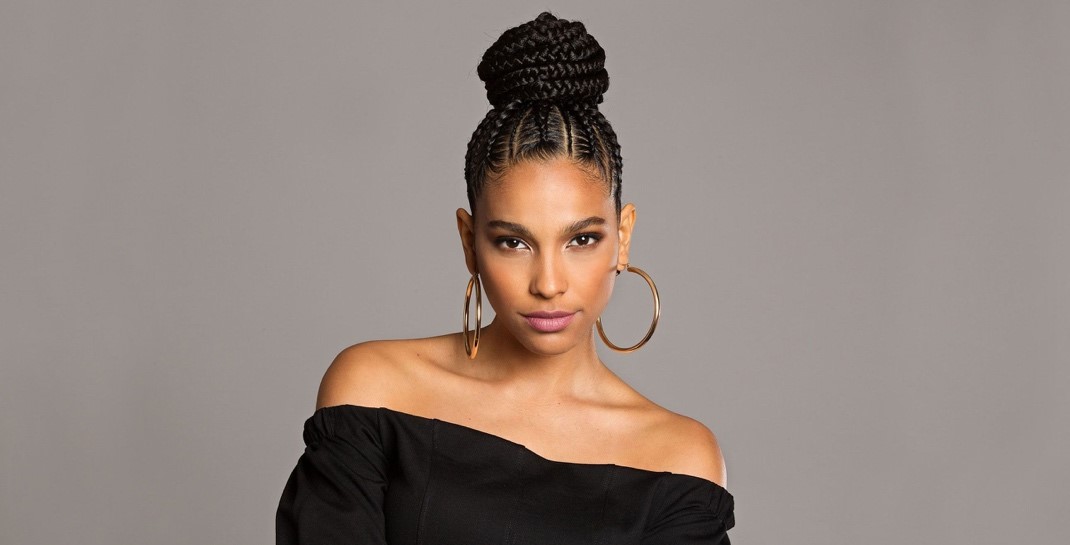 Braided Bun Hairstyle
In as much as protective hairstyles play a big and very important role of ensuring that your hair is not damaged in the cold season, you still need to take it further by ensuring that your hair is always well moisturized.
Always remember ladies your hair is your crown and you should always protect it in every way that you can.