When holiday time checks in, it's time for a little break for the little ones from the early mornings and late nights doing their homework. While it is great that they are getting a break to rest, they also tend to indulge in many activities with their peers and if not careful, their manes can really get damaged in the process and for that reason here are the best kids holiday hairstyles that you should try out.
Since they are indoors most of the time, it is easy to not give much thought to their hair and because of this it may end up lacking moisture and eventually start breaking. This is not to mean that you can settle for simple cornrows or twists. Little girls need to look good too. In fact, the holidays are a chance for them to have fun with a little bit of color and different hairstyles from the usual school appropriate styles.
If you have been wondering how you can spice up your little one's holiday, worry no more. Here are a few hairstyles you can get them to try this holiday season.
Hints of Color
Seeing as the holidays are meant for fun, this is your chance to let your princess have her favorite color on her hair. If you do not fancy an all colored look, then this is a great way to still have your kid stand out from the rest. Two great ways to achieve this style is by having a few colored strands here and there or by having all ends colored. Your kid can achieve this look with Darling Twinkle Braid  or Baju Braid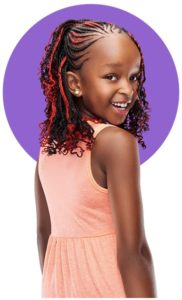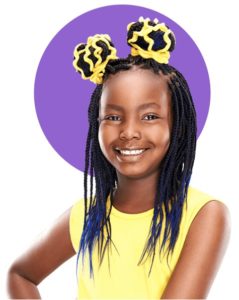 Darling Twinkle Braid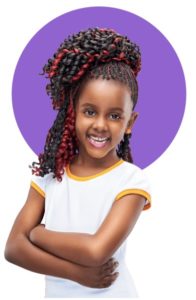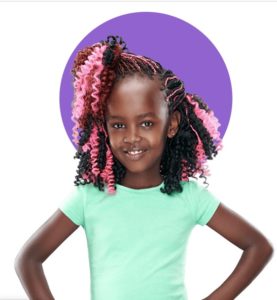 Darling Baju Braid
Cornrows and Beads
If there is one style that you can always rely on its cornrows. Not only are they super comfortable especially for kids, but they are also very easy and fast to achieve making kids more comfortable with less salon hours. While this is mostly the go-to style for many parents, you can still try to add a bit of fun to it by adding some colored beads.
This is also a great chance to break away from the classic cornrows to try fun styles like side cornrows or classic cornrows at the back but with a bun on the side or in the middle. There are so many ways to spice up simple cornrows for kids. This style can be achieved using Darling Twinkle Braid.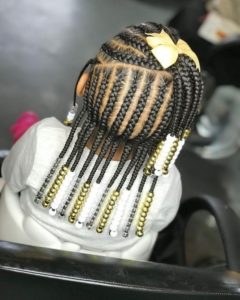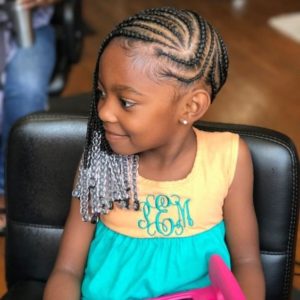 Beaded Cornrows
Short Bob
In as much as you may want your girls to remain little forever, the reality is that they will outgrow a couple of things. Beads included. They just grow up so fast, don't they? If this is your reality, then the short bob can be what your child needs. It is not only stylish, but it will also make them feel a little grown especially if they are in their teens. You can even add a few cornrows at the front or use colored braids to make the style look even more appealing and a bit 'their age'. This can be achieved with Darling Twinkle Braid.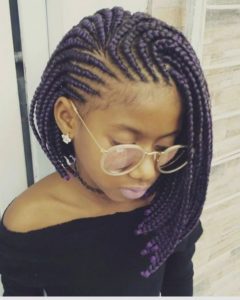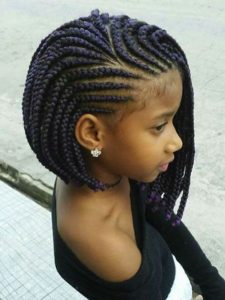 Short Bob for Kids
Mohawk for Kids
With so many kids' activities during the holiday, the last thing your little wants would want is hair all over their faces. If you plan on your girls having a fun-filled holiday, they will love this hairstyle. You can also find ways to spice it up by either styling in small buns or a classic French braid. If they are up for it, add a few gold rings or even a bow. This style can be achieved with Darling Twinkle Braid.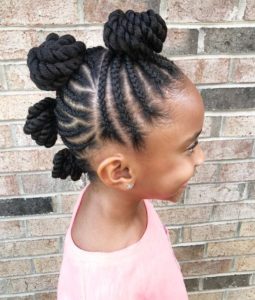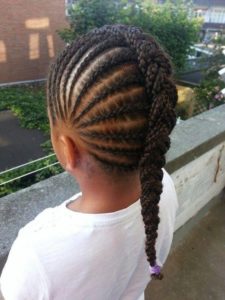 Mohawk for Kids
Box Braids
If your kids love accessorizing and changing up their hairstyle every now and then, this is the perfect kids holiday hairstyles for them. Whether they are going to be flower girls at any point or going to a party, you can always play around with different hairstyles. It is also very easy to accessorize when it comes to box braids. From flower crowns to colored bands, there is so much you can do. One of the most fun things to do is add a bit of curls or waves using the hot water method or by simply using Darling Mimi Braid. Get ready to be the mum of the year and to give hair tips to other mums all holiday long. This style can be achieved using Darling Twinkle Braid or Mimi Braid.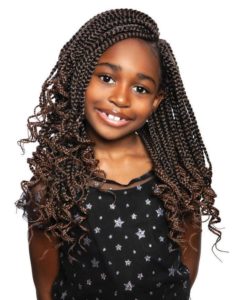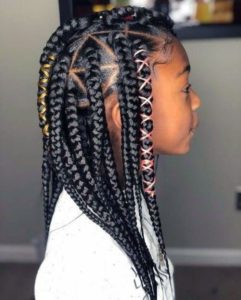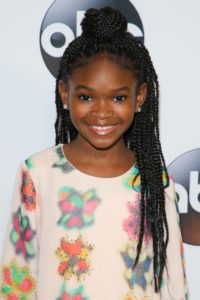 Styled Box Braids
Braided Updos
A good braided updo will always top the fun kid's list and of all top the kids holiday hairstyles list. There are so many ways to fancy it up with updos. From single to double buns, colored braids, two front beaded braids and much more. You can never go wrong with a braided updo. They are also great for athletic kids who would prefer simple hairstyles that do not get in the way of sports. However, if your child will be a flower girl soon, you can spice this lookup by adding an extension. This style can be achieved using Darling Twinkle braid or Darling Kimi Crochet which also doubles up as an extension.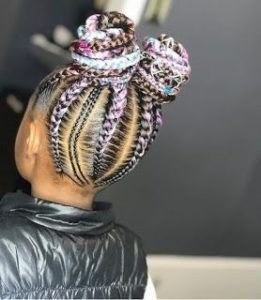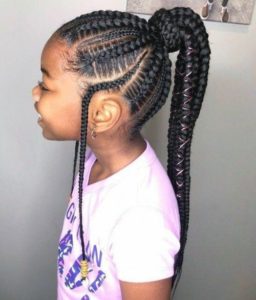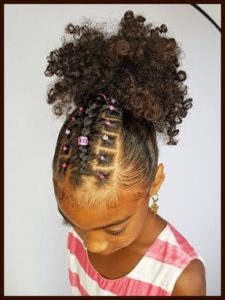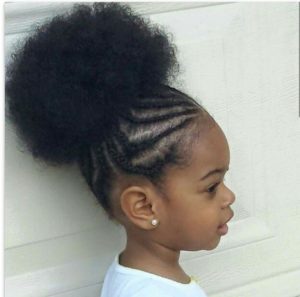 Braided Updos
The holidays are all about fun and so should the hairstyles be. Ensure that your child's hairline is protected, so ensure they are not plaited. With their scalps also being sensitive, ensure to only go for really light hairstyles for them. Happy holidays!